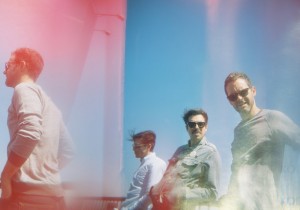 "Lost in the Dream," the third album from the Philadelphia band The War On Drugs, has been one of the year's most celebrated indie-rock releases, drawing near-universal acclaim for its sophisticated synthesis of classic American folk and rock influences as diverse as Bruce Springsteen, Bob Dylan and Sonic Youth. The band's frontman, Adam Granduciel, is also a longtime photography enthusiast. "In high school, I was head of the lab," he says. "I dumped a whole five-gallon bucket of D-76 on my head once. It ruined all my clothes."
Granduciel is rarely without one of his three cameras: a Polaroid, loaded with 600 film purchased from the Impossible Project; a Holga he's had for nearly a decade; and a Rollei 35 he found at a camera shop in Brighton, England. Over the past year, in the run-up to and the wake of the March release of "Lost in the Dream," the band has traveled the world, and Granduciel has documented the sights its members have seen — from giraffes on a Dutch safari to Portuguese palm trees to his own 82-year-old father on his first trip to Europe.
Though Granduciel does maintain an occasionally updated Instagram for the band, he's an analog man at heart. "For me, it's not even about what it looks like — I like the anticipation of not knowing what it's going to look like," he says. "I get such joy out of shooting film and having a bunch of undeveloped rolls … That's the most fun, for me."
By Alexandria Symonds.  Full feature and slideshow HERE.